Added to your basket
Sorry, there seems to have been an error. Please try again.
Subtotal: ( items in your basket)
Live Chat
Average connection time 25 secs
Average connection time 25 secs
Miimo 70 Live Robotic Lawnmower (Incl. Wire and Pegs)
GBP
990.0
Was £1,190.00
£990.00
Save: £200.00
Usually despatched within 3 working days.
Live Chat
Average connection time 25 secs
Average connection time 25 secs
Please Note: If you require professional installation of this product, please contact your local Honda Authorised Specialist Miimo Dealer. This will incur an extra cost dependent on lawn complexity.
Key Statistics:
Area Capacity: Up to 700m2
Working Capacity: 32m2/h
Battery: Li-ion 18V/2.5Ah
Mowing time per charge: 75 minutes
Boundary wire and pegs included: 175m/ 240 pegs
User Interface: Control Panel & Smart Phone App (''Mii-Monitor'')
Miimo cuts your lawn so you don't have to.
Our small Miimo range takes the effort out of lawn maintenance, ensuring your garden looks pristine everyday.
An intelligent robotic mower, which calculates your garden's size, learns its layout and works out a mowing calendar all on its own. With the power to mow areas up to 700m2, there's no easier way to keep your lawn in perfect condition all year round.
It begins by mapping your entire lawn, then calculating its size before creating a bespoke mowing calendar. Thanks to its Smart Timer, it will allow for changes in the weather and the speed at which your grass grows - and even stay in its base during heavy rain to avoid damage.
With the ability to cut in a logical pattern, Small Miimo can cut stripes into your lawn quickly and efficiently and for those small spaces which Small Miimo has been unable to reach, such as garden furniture areas, Place & Mow allows you to cut specific small sections with ease. With the Mii-Monitor App, you can see how often Small Miimo plans to mow and make adjustments at any time. You can even control Small Miimo with your voice, as Small Miimo now works with Amazon Alexa*
If you're concerned about slopes in your garden, this Miimo is able to cut on slopes up to 9 degrees with its high level of traction and grip. Thanks to its rapid reaction lift sensors, it will never get stuck in a hole or uneven ground.
There is no need to worry about safety as Miimo has 360 degree bump sensors. This means it will automatically stop its blades when it detects it's being picked up and will automatically turn away from garden obstacles and pets.
*Available on HRM40 Live and HRM70 Live only
Key Features Overview:
Automatic Charging System: Small Miimo works for as long as you want. When needed, it heads directly to the docking station to recharge itself then gets straight back to work.
Micro Mulching: Small Miimo cuts grass clippings into minute particles so they drop down through the grass and acts as a fertiliser - no more walking grass through the house.
Map & Mow: Using the simple 4-step setup process, Map & Mow will calculate your garden size and create a mowing calendar. With logical cutting, it is the most intelligent way to manage small gardens.
Smart Timer: In deciding when to mow, Small Miimo takes the weather into account so it won't try to mow your lawn during heavy rain or if it's been so dry that your grass has not had the chance to grow.
Smartphone App: A simple and intuitive interface that allows you to review and control Miimo's cutting schedule, wherever you are.
Weatherproof: Small Miimo is IPX4 weatherproof and can tackle most wet weather conditions.
Additional Key Information:
Miimo can cross over pavements and driveways as long as they are level to the grass surface. If the pavement is higher than the grass, a boudary wire will need to be placed around these areas.
Stepping stones that are embedded below the level of the grass are generally not a concern.
Miimo can only reach areas of your garden that are connected to each other. It cannot cross over a fence or a wall unless there is an opening available.
Miimo can handle most narrow passages. The Miimo needs at least 1 metre (3.3 ft) wide passages to be able to navigate.
Your flowerbeds are safe with Miimo. Obstacles inside the lawn areas such as trees, islands or flowerbeds are detected by creating loops around them using the boundary wire.
Miimo can also cut around water features such as ponds, fountains and swimming pools. To ensure the Miimo does not accidently slip into the water, the boundary wire must be 3 feet away from the water's edge.
Unrivalled warranty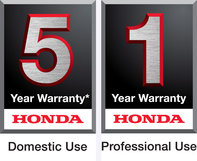 Our products are built better to last longer. That's why we can offer you a rock-solid warranty for domestic and professional use on our core range products, covering both parts and labour. The warranty also maintains the same value throughout the warranty period – meaning the last day of cover is exactly the same as the first.
*Subject to domestic use and following the service schedule
Specifications
| | |
| --- | --- |
| Area Capacity | up to 700m² |
| Working Capacity | 170 m²/h |
| Maximum incline mowing area | 15° / 27% |
| Maximum incline wire on slope | 9° / 15% |
| Noise Level guaranteed | 63 dB(A) |
| Blade Type | 3 (Swing back type) |
| Cutting width | 190 mm |
| Cutting height adjustment | Manual from 30 to 50 mm |
| Battery type | Li-ion 18V / 2.5aAh |
| Mowing time per charge | 75 min |
| Charging time | 60 min |
| Waterproofing | IPX4 |
| Smartphone application | Android and iOS |
| Docking station position | Corner & Edge |
| Length x width x height | 445 x 364 x 202 mm |
| Weight | 7.6 kg |
Delivery
Now you can order Honda Power Equipment products online and have them delivered straight to your door.

Step 1 – Browse our easy-to-use online store and order your chosen product
Step 2 – It will then be assembled and any packaging disposed of*
Step 3 – Your product will be delivered at a time that's convenient for you
Step 4 – And your friendly local Honda dealer will demonstrate how best to use and maintain it for years to come**

*
(a) If you require professional installation of a robotic mower, please contact your local Honda Authorised Specialist Miimo Dealer.
(b) Please be aware that Honwaves will not be assembled prior to delivery.

** Marine Engines will be built up and inspected but due to the nature of the product, a demonstration will only be available on dealer premises. Please discuss this on the call with your delivering dealer if you require this.

A Honda Power Equipment expert is only a phone call away if you would like your product serviced or need any help or support.

Order Usually despatched within 3 working days.
Who will be delivering my goods?
The Honda dealer that we assign to your order will deliver the item(s) you ordered. They will be in touch with you soon after your order has been dispatched to them from our warehouse, to arrange delivery.
How long will my order take to arrive?
Due to the care our authorised Honda Dealers take in inspecting and building up your product prior to delivery, please allow up to 5-10 working days from your order being accepted, depending on your location. We aim to deliver your order in accordance within the estimated delivery timescales set out below:
| | |
| --- | --- |
| Mainland England and Wales | 5 working days |
| Mainland Scotland | 6 working days |
| Northern Ireland | 6 working days |
| Highlands | 7 working days |
| Isle of Man | 7 working days |
| Isle of Wight | 7 working days |
| Shetlands | 10 working days |
| Orkney | 10 working days |
Can I delay my order?
If you wish to delay the delivery of your order, you can do so when your Honda dealer contacts you to arrange the best time for delivery.
Do I need to be present for delivery?
Yes you do need to be present at delivery, so that our Honda dealer can talk you through the product and demonstrate how it works.
Returns
If you're not completely satisfied with your purchase please see our returns policy.
Reviews
There are currently no reviews.
Zoom